Let us unite against Covid-19
---
Ecuador

Number of beneficieries: 220

FOM May 2020

It is a Project to counter the spread of the invisible enemy Covid-19 in the outskirts of the Ecuadorian Amazon, in particular in the indigenous villages located in the cities of Baeza, Archidona and Tena.
The indigenous villages of the Napo region are experiencing a dramatic situation in 2020 for several reasons. Last April, there was an oil spill due to the rupture of the oil pipeline that polluted the Napo River. It caused the death of plenty of fish and animals normally present in the forest. A few days earlier the Napo River had flooded various villages and their schools, sweeping away books, notebooks, desks and cupboards. Finally, the Covid-19 pandemic has also arrived, which is still claiming victims especially among the elderly and the poorest. There is a lack of medicines, especially for respiratory and lung problems, masks, gloves, gels, material to purify water and in general there is a lack of food. In rural areas, communications are interrupted due to successive landslides and floods in the first half of 2020. If we add that normally in these places even the light and the telephone sometimes do not work and the internet signal is poor. One can rightly imagine how the invisible enemy Covid- 19 is even more invisible and capable of generating a real massacre in these peripheries of the world.
General objectives of the project
We offer a radio information service bridging with the villages. Even those not reached by electricity, using rechargeable batteries and electric generators, broadcasting specific radio programs for the Covid-19 emergency. Through which we collect requests for help or warnings of diseases in the process of spreading, in order to inform promptly the competent health bodies for their prompt intervention.
Countering the lack of food and medical supplies by distributing them especially in the areas most affected by Covid-19.
Specific objectives of the project
We broadcast through Radio Voz del Napo, social and health programs for children and young people, specific for the Covid-19 emergency, including them among those already underway such as, for example, catechism and entertainment.

Provide on the Radio interventions by doctors and experts in the socio-health field, for advice on the hygiene - health, food and social behaviours to be adopted to prevent the spread of Covid-19 infection.

We distribute health materials to counter the spread of Covid-19 such as masks, gloves, hydro-alcoholic gel, drinking water, food and antiviral and anti-inflammatory medicines for the respiratory tract.
---
persons of the project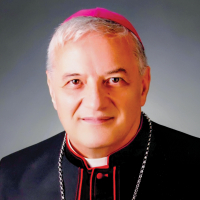 Adelio Pasqualotto
Vescovo del Vicariato Apostolico di Napo
PROJECTS
SUSTAIN THE PROJECTS OF MURIALDO WORLD

Donate Now
PROJECTS OF MURIALDO WORLD
Other projects in Ecuador